Design your own Ring
You found the one and you want to surprise them with a stunning piece of jewelry. Make it extra special, by customizing your own ring and create the perfect one.
Have a vintage jewelry or an heirloom piece that's been part of your family for generations, well why not customize it into your new piece.
If the piece doesn't fit your fiancé's fingers, no worries we can duplicate. In fact, you can add a new twist to the old design! Change the type of metal or stone. If your vintage ring was gold, you can try using platinum or white gold. Don't like the original stone, you can change it to diamonds. If it has a diamond solitaire, you can have a bigger diamond stone setting without changing the ring design.
Don't know where to start check out our website for thousands of ring designs to choose from and can re-design it to your liking. Our customer service agents are there to help you. Just Send your idea and we'll work with you to make it happen. Make your dream wedding ring come to life to make it more unique.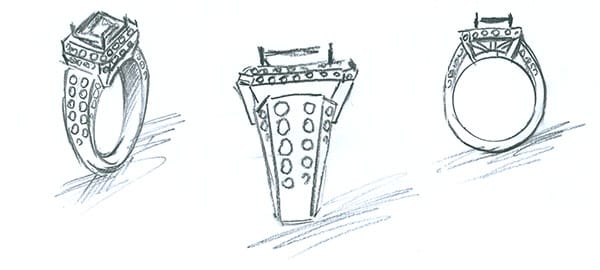 It starts with a sketch....
We at Wedding Rings Depot will help you step by step to create that one-of-a-kind engagement or wedding ring and bring it to life. It's so simple. Just follow the 3 easy steps below:
Send us a clear photo of the ring (include details of what it contains, the stone type, the metal used & the stone setting). Or bring it in to our showroom and work with one of our jewelry designers.
We will have our designer make a sketch of your ring. You will receive an email with the sketch we made for you. We will wait for your email approval before we proceed on the customization work.
After receiving your payment, we'll start working on your ring